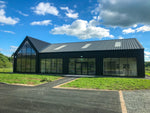 Moffat's First Distillery
Planning approval for Moffat's first legal distillery was granted in January 2020. The land was purchased in April 2020, and a little under a year later, groundworks began. The building became wind-and water-tight in January 2022.

Located on the southern edge of town, the distillery is accessible by foot, bike, car or small coach.

In-keeping with our desire for sustainability and local resources, we will have the only wood-fired stills in Scotland - both for Scotch and gin. The wood is be collected from local, sustainable sources. Our pilot set-up - a 350 litre wash still and a 200 litre spirit still - will make us the smallest whisky producer in Scotland by a significant margin. We have a visitor centre and are perfectly placed to enjoy the beautiful Lowland hills.

It takes at least three years for spirit to become whisky and we will we will keep a close eye (and nose) on our liquid, to make sure that as soon as it is ready, it will be in a bottle. While the casks patiently age, we will also produce other spirits and cordials as well as expanding our Local Dram and Auld Special Edition Scotch offerings. These, along with other whiskies, will be available at our bar and shop. We will also serve coffees, teas and light bites.

The distillery sits on a site we call the Hearthlands: the hearth being the traditional focal point of every home and community and community being central to who we are. Our mission is to create products that spark conversations and build friendships that strengthen community. Just like the physical hearth, our distillery will be a place for people to find kindred spirits, share ideas and form lasting relationships. A community supporting the community of Moffat.

Situated on 17 acres, we have ample space to be creative and open up opportunities for our community. Once the distillery is up and running, we will be setting out a makers-marketplace to enable local artisan producers to work and share ideas with like-minded people. Positioned in close proximity to the distillery, we hope to create a place where local, independent producers can connect with the rest of the world.

Our project would not have been possible without the support from South of Scotland Enterprise Partnership - now South of Scotland Enterprise (SOSE) - and Dumfries and Galloway Council. To move forward, we will be seeking additional funding. If you'd like to help support the Moffat Distillery, sign up for our mailing list at the bottom of any page on our website, and we will keep in touch with ways you can help.
You can also keep in touch by joining our Facebook Group.